Description
The largest model of the b Series, the Yamaha b3 – with its longer strings and larger, solid spruce soundboard and cabinet, boasts a wonderfully rich and singing sound. This model also accommodates a more responsive action than the other b pianos, truly allowing the pianist to effortlessly tap into their own expressive potential. Despite this, and in common with the b Series as a whole, the b3 is still highly affordable without compromising on quality and durability. Suitable for all pianists from beginner to advanced, the b3 is rightly considered a fantastic entry-level piano which will equally serve the needs of pianists of any standard, and will always bring great enjoyment no matter what style of music is being played.
Also available with Silent Technology – allowing you to play silently using headphones, any time of day or night.
CLAIM YOUR EXTENDED 10 YEAR GUARANTEE – REGISTER YOUR NEW YAMAHA PIANO NOW
Affordable Quality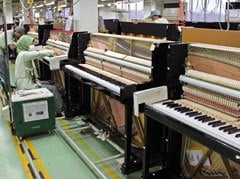 Produced at a Yamaha factory in Indonesia from a scale design developed in Japan, b Series pianos are Yamaha's most affordable entry-level uprights. Although reduced production costs allow budget-friendly prices, Yamaha makes no compromises in the materials and workmanship that go into these exceptional uprights.
Quality Components, Quality Sound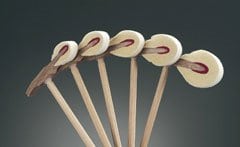 Supported by four sturdy wooden back posts and a strong cast iron frame, b Series pianos are endowed with Yamaha's renowned pure, clear tone. High-grade hammers and a proven action design offer effortless playing and a highly responsive keyboard 'touch' that make these uprights ideal for beginning players.
Design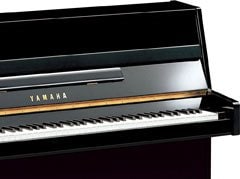 Yamaha's b Series features pianos in a range of heights, widths, and depths. The b1 and b2 boast slender profiles, making them ideal for small spaces. With its larger dimensions and heavier construction, the b3 upright requires a little more room but brings a rich, far-reaching sound.
Size/Weight
Dimensions 
Width 152 cm (59 3/4″)
Height 121 cm (47 3/4″)
Depth 62 cm (24 1/2″)
Weight 237 kg
You're never too far away!
Remember we supply pianos in Yorkshire and Nationwide… frequently delivering to Leeds, Bradford, York, Harrogate, Halifax, Huddersfield, Wakefield, Doncaster, Sheffield, Scarborough, Bridlington & Hull.
If you cannot visit, call us. We can mail order your upright piano anywhere in the U.K. Our specialist carriers work nationwide. Please ask us for more details.