Description
ABOUT SHIGERU KAWAI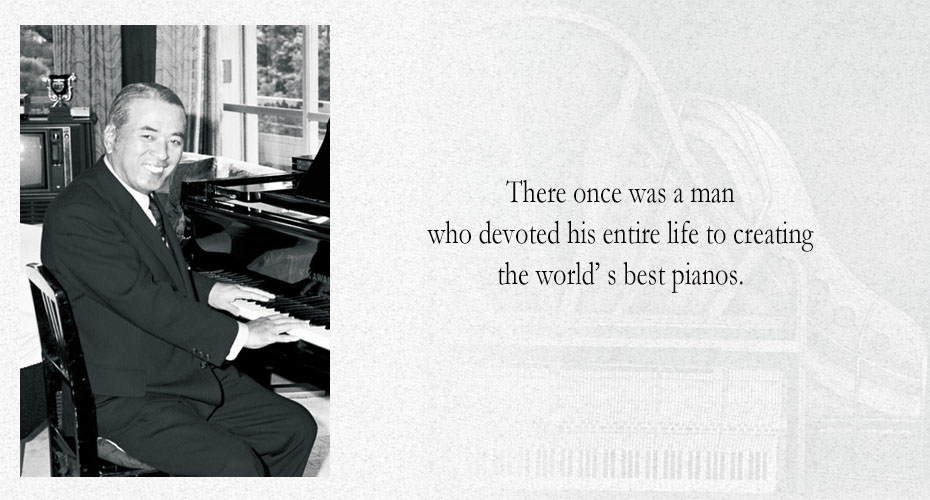 As the war ended, Shigeru was disbanded from the troop and soon after he returned home, he was adopted by the Kawai family. At first, Shigeru was just an ordinary worker. He stood in the manufacturing area all day, sometimes slept overnight in the factory. He even bathed with his co-workers, using a drum can as a bathtub. It was an indication of how focused he was on his work, and how much he loved it. Three years later, he would start to learn piano design from his adoptive father, Koichi Kawai, the founder of Kawai. An engineer who was called "Hatsumei Koichi (Koichi the Inventor)," Koichi was the first person in Japan to design and build a complete piano action. He taught Shigeru how to build pianos from scratch. "Pianos are made of wood, so they must be made by hand that is appropriate to the characteristics of each material." "As long as you are building pianos, you should strive to build the finest ones in the world." Shigeru paid great attention to Koichi's every word, but suddenly his adoptive father passed away. Filled with anxiety and despair, Shigeru took over the company. Over the next 35 years, Shigeru pushed himself to develop the company, transforming Kawai in to an industry leader, representative of Japanese quality. When asked about his career, Shigeru would often remark, "Creating pianos is the greatest job I have ever had !" Shigeru Kawai was that kind of a man.
ATTRIBUTES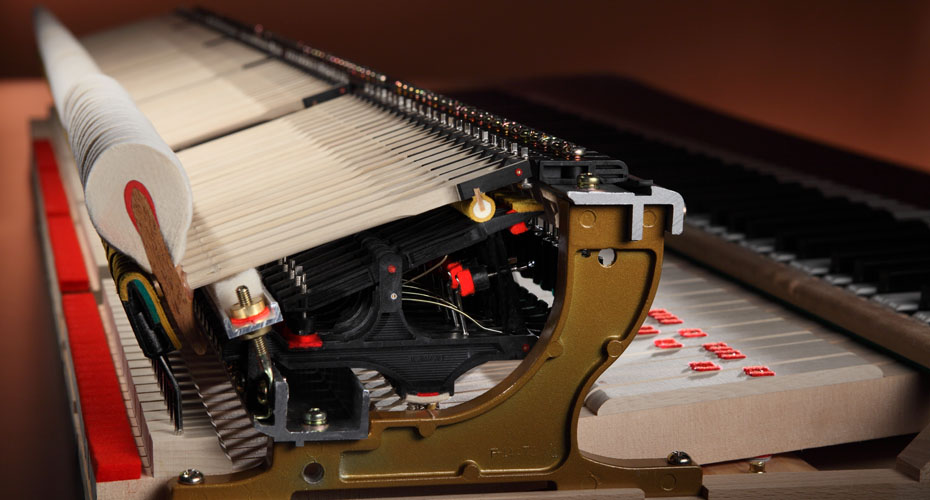 The Millennium III Action

The Millennium III Action features components made of ABS-Carbon, a composite material created by the infusion of carbon fiber into our renowned ABS Styran. ABS-Carbon is incredibly sturdy and rigid, which allows the creation of action parts that are lighter without sacrificing strength. The result is a stronger, faster action that offers more power, better control and greater stability than conventional all-wood actions.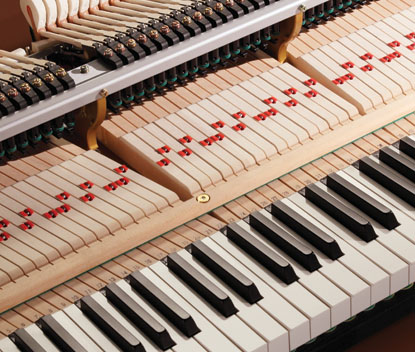 Extended Length Keys Made by Spruce

Spruce is the ideal material for the keys – light, yet extremely strong for its weight. It responds with minimal flex and exceptional consistency, transmitting every subtle nuance of the pianist's performance while remaining stable through years of heavy use. The length of each key has been extended to make playing easier and provide more even response from the front to the back of the playing surface. Keysticks are also designed with a slightly taller profile for maximum rigidity to deliver greater power.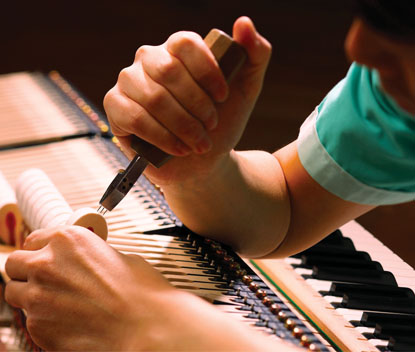 "Shiko Seion" Hammers

Shiko Seion hammers, which take their name from the Japanese words for "ultimate voicing", are the exclusive province of our Master Piano Artisans who oversee their formation from beginning to end.

Every hammer is meticulously hand-pressed without the application of heat and carefully voiced without artificial hardeners to ensure outstanding dynamic response and expression.
Hand-wound bass strings
by skilled craftsmen

The process of winding copper wire around the bass strings requires highly-refined skills. In this process, KAWAI's skilled craftsmen wind each wire carefully and precisely by hand to ensure the highest possible quality.
Concert Agraffes

Identical to those used on our renowned EX Concert Grand Piano, Shigeru Kawai Concert Agraffes are individually machined from billet brass rods to assure maximum precision and strength. The result is clear, powerful and impressive tone.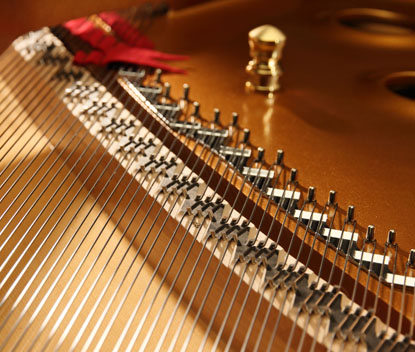 Boxwood Bridge Caps

Boxwood is an extremely hard wood that is particularly effective in transferring higher tonal frequencies through the bridge to the soundboard. Boxwood bridge caps help to ensure treble projection that complements the more powerful bass sound of larger pianos.

Premium Aged Soundboard Made of Solid Spruce

The custom-tapered soundboard in a Shigeru piano is made exclusively from the finest spruce, aged by the traditional kigarashi process that uses only the forces of time and nature to allow the wood to attain a state of natural balance. It is this lengthy and painstaking process that gives Shigeru pianos their uniquely rich tonal quality.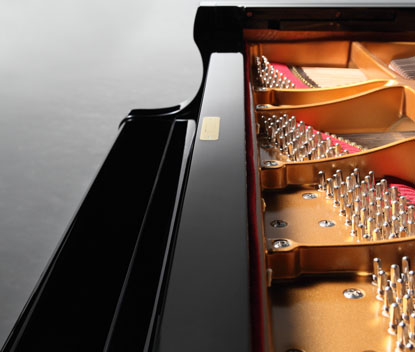 Stretcher Over-Lap Integrated Design (SOLID)

Stretcher Over-Lap Integrated Design (SOLID) creates an exceptionally rigid foundation to support string tension. With SOLID construction, the pinblock is hand-fitted to the plate. The pinblock and over-lapping stretcher bar are then integrated into a single structure and solidly anchored to the rim. The resulting framework possesses outstanding strength and rigidity to ensure stable tuning and powerful tone.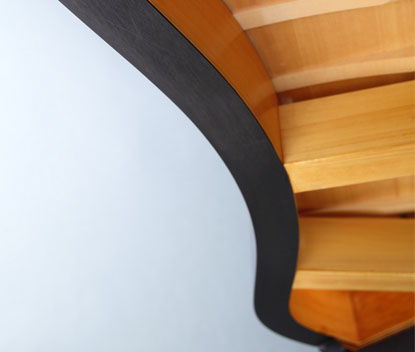 Hybrid Inner Rim
(Konsei Katagi Rim)

The exclusive Konsei Katagi rim uses a blend of distinctive hardwoods to achieve an ideal balance of tone. For the inner rim, small-pored hardwoods that provide superior brightness and projection are interlaminated with dense, large-pored hardwoods offering warmth and fullness. This synergy of structurally divergent hardwoods produces a powerful, well-rounded richness of tone that is the hallmark of the Shigeru piano.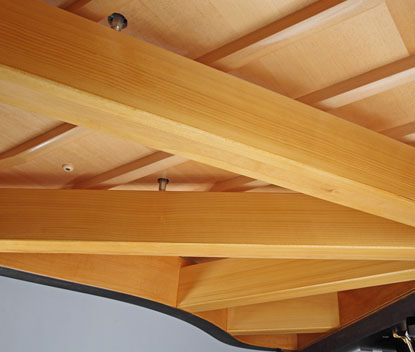 All-Spruce Beams

Spruce is known for its outstanding ability to conduct and conserve sound energy. However, it is generally considered too precious for use as a structural material. For the Shigeru pianos, all of the underside beams are made entirely of the highest quality spruce.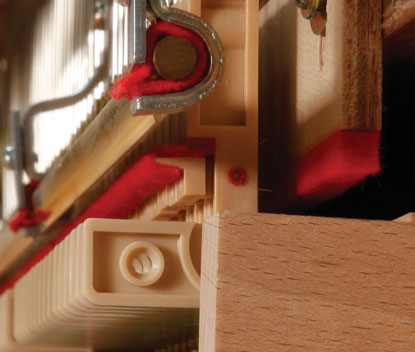 Dual-Pivot Dampers

Meticulous attention to the needs of professional performers is evident in every feature of the Shigeru piano. One example, originally developed for our Shigeru Kawai EX Concert Piano, is the unique dual-pivot damper design that allows smoother half-pedal control for delicate tonal expression.
MPA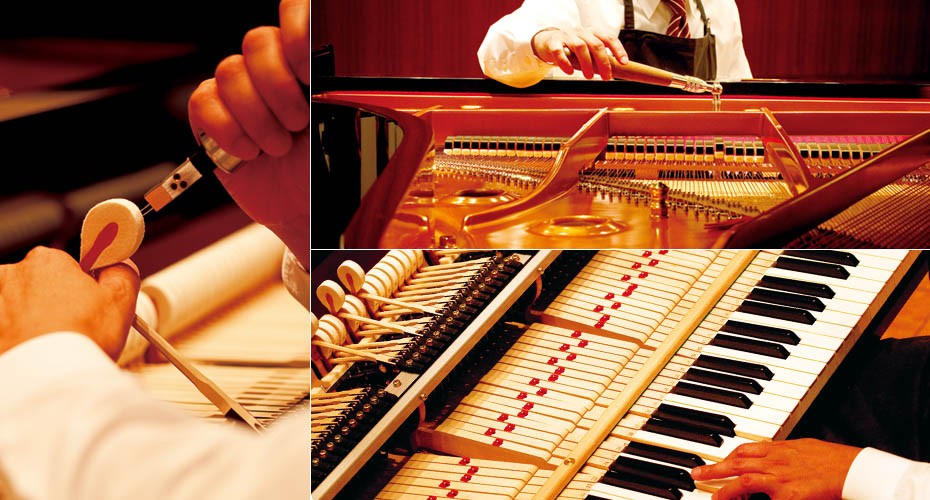 Final Voicing by MPA

Kawai's most esteemed sound creators are proudly known as Master Piano Artisans (MPA). They are the only individuals who can send Shigeru Kawai pianos out into the world. The title of MPA is a special qualification, bestowed upon the finest piano technician-those who possess skill, dedication, and a passion for music.
SPECIFICATIONS
Size
Length
229 cm
Width
157 cm
Height
102 cm
Weight
400 kg
Touch
White key surfaces
NEOTEX
Black key surfaces
NEOTEX
Action
Millennium III
Hammers
All underfelted
Sound
Soundboard
Solid Spruce, Tapered
Agraffes
1-54 keys / Shigeru Kawai concert agraffes
Duplex scaling
Fore & Back
Back posts
4
Exterior design
Pedals
Damper, Sostenuto, Soft
Casters
Double, Brass
Lid props
3
Softfall
✔
Music rack
Position
5 positions
Hard Finish
–
Lock
✔
Other features
Stretcher Over-Lap Integrated Design (SOLID)
Longer Keys
Steel-reinforced keyslip & keybed
V-pro plate
CORE system
Vertically laminated treble bridge
Longer period of natural drying process
Hand-wound bass strings
Dual Pivot Damper
Spruce beams
Reinforced Hammer Shank
Hand-craft Process
Final voicing by MPA (Master Piano Artisan)
Free Tuning
Everyone purchasing a Shigeru grand piano receives a first free tuning by a Kawai MPA (Master Piano Artisan) who will carry out the tuning in the customer's home.
You're never too far away!
Remember we supply pianos in Yorkshire and Nationwide… frequently delivering to Leeds, Bradford, York, Harrogate, Halifax, Huddersfield, Wakefield, Doncaster, Sheffield, Scarborough, Bridlington & Hull.
If you cannot visit, call us. We can mail order your grand piano anywhere in the U.K. Our specialist carriers work nationwide. Please ask us for more details.