Description
OUR DELIVERY SERVICE OPTIONS
COLLECTION – 
Quite simply you collect it from our store. Over the years many of our customers have found it more convenient to collect their digital piano from us because it is more suitable and works better around their busy schedules. It will then require unboxing and assembling. Instructions are included.
---
HIGHLIGHTS
■  Class-leading Grand Feel wooden-key keyboard action




■  Stunning SK-EX, SK-5, and EX acoustic grand piano sounds




■  Strong selection of realistic electric pianos and other sounds




■  Wide variety of Virtual Technician sound editing parameters




■  Intuitive panel with independent sound sections and effects

■  Powerful 4-channel MIDI master controller functions




■  1/4″ and XLR outputs, 1/4″ inputs with Line In level fader




■  Brand new GFP-3 triple pedal unit manufactured by Kawai




■  Sturdy metal chassis with black polish wooden side arms
---
DIMENSIONS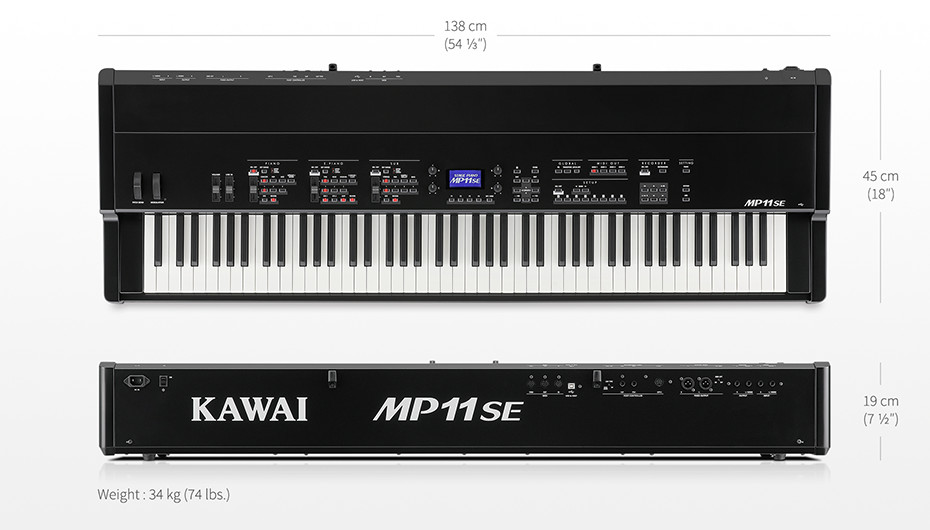 SPECIFICATIONS
Keyboard
・ Grand Feel action
– 88 wooden keys
– Grade-weighted hammers
– Ivory Touch white key surfaces
– Let-off simulation
– Triple sensor key detection
– Counterweights
Pedal
・ GFP-3 triple pedal unit
– Damper (with half-pedal support)
– Soft
– Sostenuto* all pedals support progressive pedalling
Sound
Piano Sound
・ Harmonic Imaging XL (HI-XL)
– 88-key stereo sampling
– SK-EX, SK-5, EX recording
– 256 note maximum polyphony
Piano Resonance
– Damper Resonance
– String Resonance
– Undamped String Resonance

Piano Adjustment

・Virtual Technician (22 parameters)
– Touch Curve (incl. User Touch Curve)
– Voicing
– Damper Resonance
– Damper Noise
– String Resonance
– Undamped String Resonance
– Key-off Effect
– Fall-back Noise
– Hammer Delay
– Topboard Simulation
– Decay Time
– Minimum Touch
– Stretch Tuning (incl. 88-key User Tuning)
– Temperament (incl. User Temperament)
– Temperament Key
– Key Volume (incl. 88-key User Key Volume)
– Half-Pedal Adjust
– Soft Pedal Depth- Brilliance
– Stereo Width
– Key-off Noise (E.Piano)
– Key-off Delay (E.Piano)
No. of Sounds
40 voices
Reverb
6 types
Brilliance
✔
Other Effects
129 types
Output System
Speakers
–
Output Power
–
Headphone Enhancements
–
Design
Display
128 x 64 pixel LCD with backlight
Key Cover
–
Music Rest
Detachable type (included)
Dimensions
Width
138 cm
Depth
45.5 cm
Height
19 cm (not including music rest)
Weight
34.0 kg
Available Finishes
Gloss Black
Functions
Basic Functions
Dual
Split
Transpose
Tuning
Registration
Internal Songs
Sound Demo
–
Piano Music
–
Concert Magic
–
Lesson Songs
–
Internal Recorder
Total Memory
approximately 90,000 notes
No. of Songs
10 songs
Parts
1 part
Metronome
Time Signatures
1/4, 2/4, 3/4, 4/4, 5/4, 3/8, 6/8, 7/8, 9/8, 12/8
Drum Rhythms
100 patterns
External Connectivity
Bluetooth *
–
USB Audio Recorder
Record/Playback
MP3
WAV
Other Functions
Overdubbing
Line In recording
App Functions
–
Connector Jacks
Headphone
1 x 1/4″ Stereo jack
MIDI
MIDI IN, MIDI OUT, MIDI THRU
Line Out
1/4″ L/MONO, R [unbalanced]
Line In
1/4″ L/MONO, R [unbalanced]
USB to Host
✔
USB to Device
✔
Others
XLR FIXED (L, R) [balanced] + ground lift switch
FSW
DAMPER/SOSTENUTO/SOFT (for GFP-3)
EXP + EXP type switch
Power Supply
Power Consumption
20 W
Included Accessories
Power
Power cable
Bench
–
Headphones
–
Sheet Music
–
Others
Warranty Card *
Owner's Manual
Music Rest
GFP-3 triple pedal unit (with half-pedal support)
You're never too far away!
Remember we supply pianos in Yorkshire and Nationwide… frequently delivering to Leeds, Bradford, York, Harrogate, Halifax, Huddersfield, Wakefield, Doncaster, Sheffield, Scarborough, Bridlington & Hull.
If you cannot visit, call us. We can mail order your digital piano anywhere in the U.K.