Description
OUR DELIVERY SERVICE OPTIONS
COLLECTION – 
Quite simply you collect it from our store. Over the years many of our customers have found it more convenient to collect their digital piano from us because it is more suitable and works better around their busy schedules. It will then require unboxing and assembling. Instructions are included.
---
HIGHLIGHTS
■  Improved Responsive Hammer Compact keyboard action




■  SK-EX and EX concert grand piano sounds, 88-key sampling




■  25 sounds, Dual & Split playing modes, 100 drum rhythms




■  Dual headphone connectors, dedicated stereo Line Out jacks

■  Integrated Bluetooth® MIDI and Audio wireless technology




■  Support for PianoRemote control app for iOS/Android




■  Stylish appearance, sturdy chassis weighing just 12.5 kg




■  Designer stand and triple pedal board accessories available
At home, on stage, your music.

The Kawai ES Series has been designed to deliver the finest playing experience possible within a portable piano.  These stylish instruments are ideally suited to musicians seeking a piano that provides an authentic keyboard action and a selection of inspiring sounds, yet can still be moved easily, or placed on an attractive furniture stand without occupying too much space.

The latest ES Series models are also an excellent choice for gigging musicians, academic institutions, and places of worship, thanks to their lightweight body, powerful speaker systems, and great audio connectivity.  And with a slew of customisable settings, Bluetooth MIDI and audio, and engaging apps, the ES Series instruments  are also extremely personal pianos, that players of all ages and abilities can take pride in owning.
TOUCH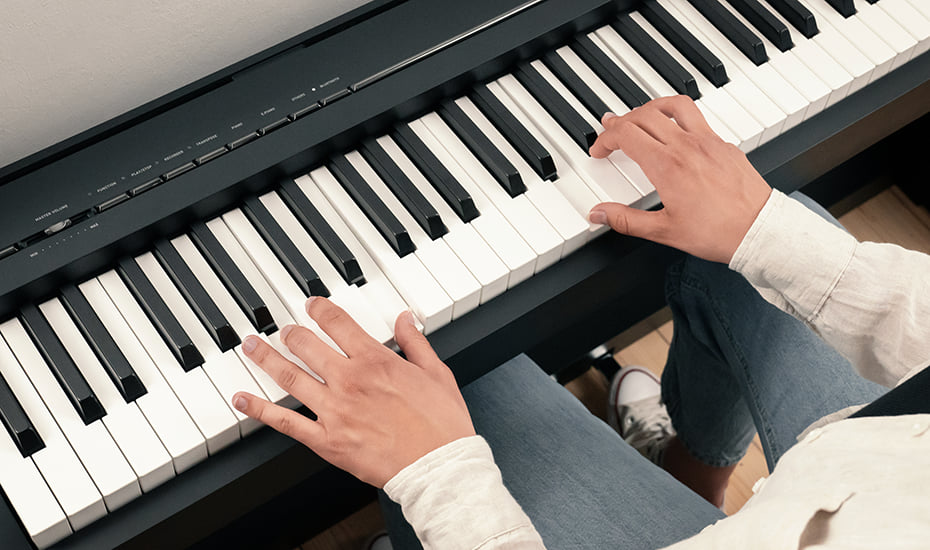 The Touch of a Grand Piano: Responsive Hammer Compact keyboard action

The ES120's Responsive Hammer Compact keyboard action has been specially developed to allow portable instruments to reproduce the distinctive touch of an acoustic grand piano.  Based on the highly-regarded RH action design, its spring-less technology and sturdy construction delivers consistent upward and downward motion, while improved cushioning material helps to reduce keyboard noise, resulting in a smooth, natural, and highly authentic piano playing experience.
 Matte key surface    Hammer sensor    Hammer pivot point
 Key pivot point    Weighted hammers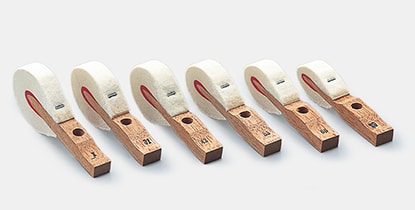 Acoustic piano key weighting

Just as acoustic pianos utilise heavier bass hammers and lighter treble hammers, the RH Compact keyboard action also employs different hammer weights, appropriately graded for each playing range.

Such details provide greater stability during fortissimo passages, while preserving delicate pianissimo control, to satisfy the demands of even the most discerning pianist.
SOUND
The Sound of a Grand Piano: Two world-class instruments

Earning a reputation as the 'premier pianos of Japan', Shigeru Kawai instruments grace the stages of concert halls and musical institutions throughout the world, and are prized for their outstanding tonal clarity and exceptional dynamic range.

The ES120 captures the magnificent tone of the flagship Shigeru Kawai SK-EX concert grand piano.  This peerless instrument is hand-built by Master Piano Artisans at the Shigeru Kawai Piano Research Laboratory in Ryuyo, Japan, and widely regarded as one of the finest instruments in its class.

In addition, the ES120 also features the distinctive sound of Kawai's highly acclaimed EX concert grand piano, which has been selected by professional pianists in such prestigious events as the Chopin, Tchaikovsky, and Rubinstein international piano competitions, among others.

Both the SK-EX and EX are faithfully reproduced with full 88-key sampling using advanced Harmonic Imaging™ sound technology, to establish a new standard in digital piano tonal quality, and allow musicians to appreciate the contrasting properties of each.
True character in every note

The rich, expressive sound of the SK-EX and EX concert grand pianos is at the heart of the ES120, with all eighty-eight keys of these world-class instruments painstakingly recorded, meticulously analysed, and accurately reproduced as high-fidelity digital waveforms.

Recording each key individually in this way – as opposed to stretching the same tone over several different notes – preserves the grand pianos' unique harmonic character, and guarantees that the sound heard when playing any one of the ES120's weighted keys is a faithful representation of the original acoustic source.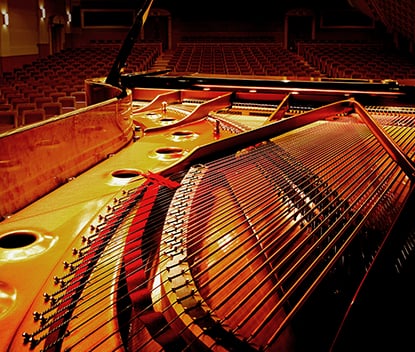 Rich, dynamic, expressive

 When playing a fine piano, the amount of pressure applied to the keyboard affects not only the volume of the sound produced, but also the unique tonal character of each note.  Therefore, in order to construct a realistic acoustic portrait of each grand piano, not only is each key recorded individually, but also at a wide variety of different volumes, ranging from gentle pianissimo to thunderous fortissimo.

The ES120 offers a highly detailed acoustic portrait, employing Kawai's proprietary Harmonic Imaging sampling technology to ensure smooth tonal transitions across the keyboard and throughout the entire dynamic range.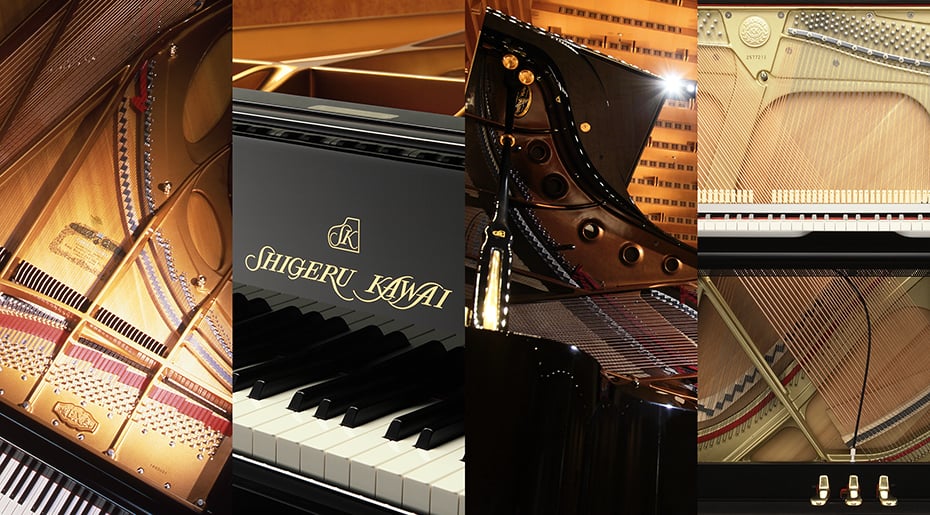 Variety beneath your fingertips

Alongside the classically voiced SK-EX and EX grand piano sounds, the ES120 also showcases a selection of Jazz, Pop, and Modern variations suitable for a range of musical genres.  A traditional Kawai upright piano sound is also included, for pieces that suggest a feeling of nostalgia, or call for a slightly more intimate tonal character.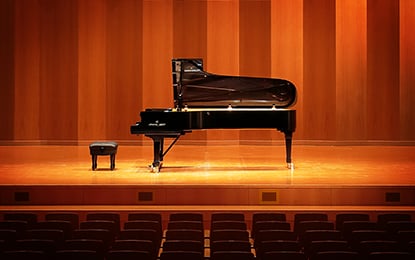 Realistic reverberation

The ES120's powerful digital effects engine further enhances the instrument's core sounds, applying reverberation effects that simulate the acoustics of a recital room, live stage, concert hall, and other environments, bringing performances to life.

The result is a rich, vibrant piano tone that delivers exceptional realism and authenticity, to inspire musicians of all abilities.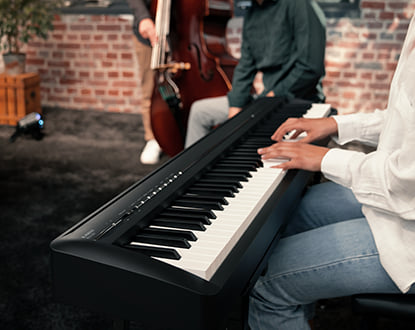 Impressive speaker system
(with Low Volume Balance feature)

The ES120's stereo speaker system delivers an impressive 20W of output, providing enough power to fill a medium-sized room with it's beautiful Shigeru Kawai grand piano sounds.

Moreover, when playing through speakers at a reduced volume setting (so as not to disturb family members), the ES120's Low Volume Balance feature intelligently adjusts keyboard touch and piano tone characteristics, allowing pianissimo passages to be played smoothly and more naturally.
FEATURES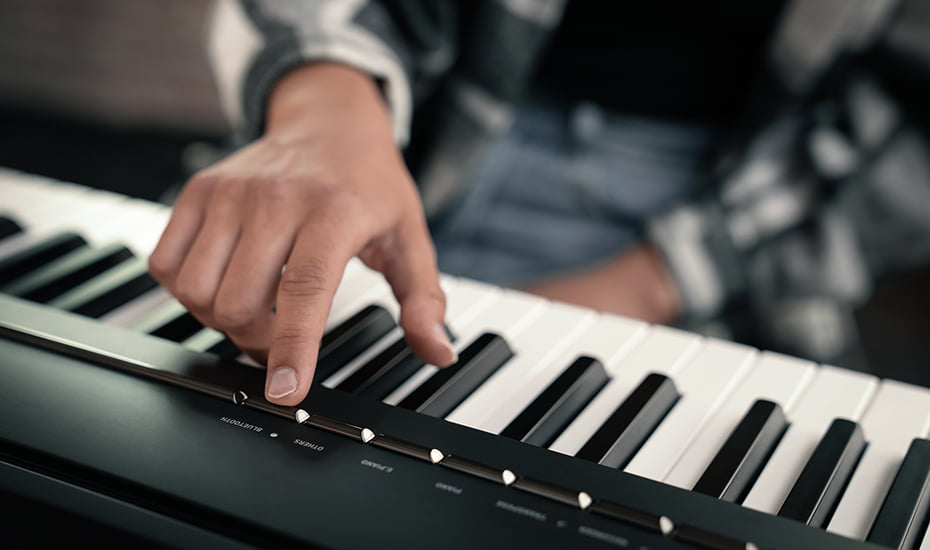 The Variety of a Digital Piano: Convenience & Flexibility

The impressive ES120 offers a variety of features to complement its authentic keyboard touch and rich grand piano sounds.  The adjustable metronome and song recorder are invaluable tools for aspiring pianists wishing to improve the technique, while additional instrument voices, Dual and Split playing modes, and 100 drum rhythms allow players of all levels to indulge their creative spirit.

Live players will appreciate Registration memories and dedicated Line Out jacks for sound reinforcement, while integrated Bluetooth® MIDI and Audio, and a standard USB-MIDI port provide flexibility for connecting to smart devices and computers – either with, or without cables.
Integrated Bluetooth® connectivity

In addition to a standard USB-MIDI port for connecting to computers, the ES120 also features integrated Bluetooth® MIDI and Audio technologies that allow the instrument to communicate with supported smart devices wirelessly.

Once paired with a phone, tablet, or laptop, ES120 owners can enjoy a wide variety of exciting music-related apps that enhance their learning and playing experience, or stream audio from songs and videos directly through the instrument's impressive speaker system without the need to connect additional cables.

* Availability of Bluetooth® function may vary depending on market area.
* For more information please refer to the Bluetooth MIDI Information support page.
PianoRemote app

The ES120 is compatible with Kawai's latest PianoRemote control app for iOS and supported Android devices. This app connects to the piano wirelessly via the instrument's integrated Bluetooth feature, providing an effortless way to change sounds or adjust settings from an attractive user interface.
Variety of sound

Supplementing its realistic acoustic piano voices, the ES120 also offers a selection of additional instrument sounds, including electric pianos, organs, strings, acoustic and electric bass, and vibraphone.

The Dual and Split playing modes also allow two different voices, such as an acoustic piano and a string ensemble, to be played together for a more complex sound that inspires even greater musical creativity.
Great for gigging

Lightweight and compact, the ES120 is ideal for gigging musicians looking for a portable piano with authentic touch and high quality sounds.

Registration memories provide a quick and easy way to recall adjusted sounds and settings, while the dedicated stereo Line Out jacks allow direct connection to mixers and PAs, with the ability to also leave the instrument's built-in speakers enabled for use as local monitors.
DESIGN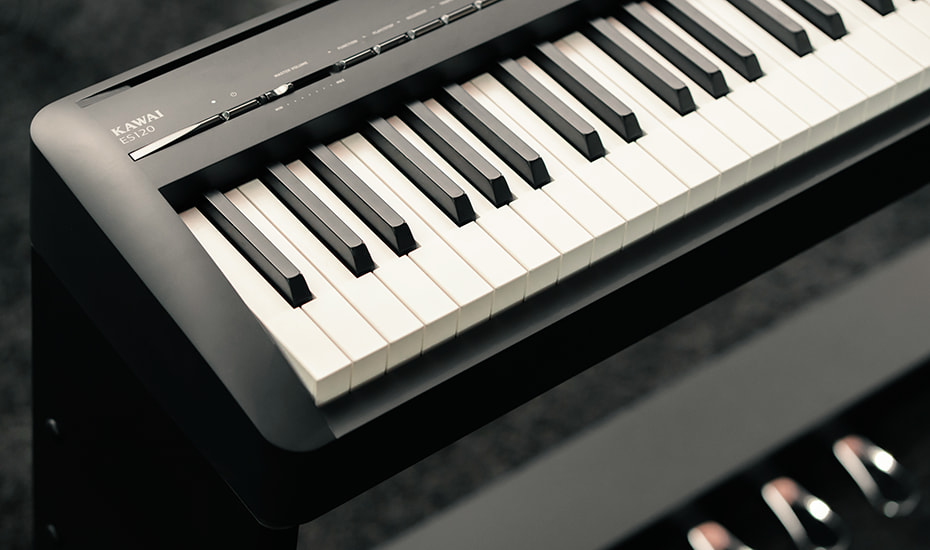 Uncluttered appearance, lightweight body

The ES120 adopts a brand new exterior design, with the instrument's updated control panel incorporated into an attractive polished trim line that runs the length of the keyboard. It's stylish yet strong body weighs just 12.5 kg, making the ES120 an excellent choice for gigging musicians, as well as academic and religious institutions.

Choice of finishes

Available in smoothly textured Black, White, and Light Grey* finishes, the ES120's clean design is suitable for both traditional and contemporary spaces.  And with matching designer stand and triple pedal options, the instrument can be easily transformed into an ultra-compact piano replacement for the lounge, studio, or bedroom.

* Availability of Light Grey finish dependent on market location.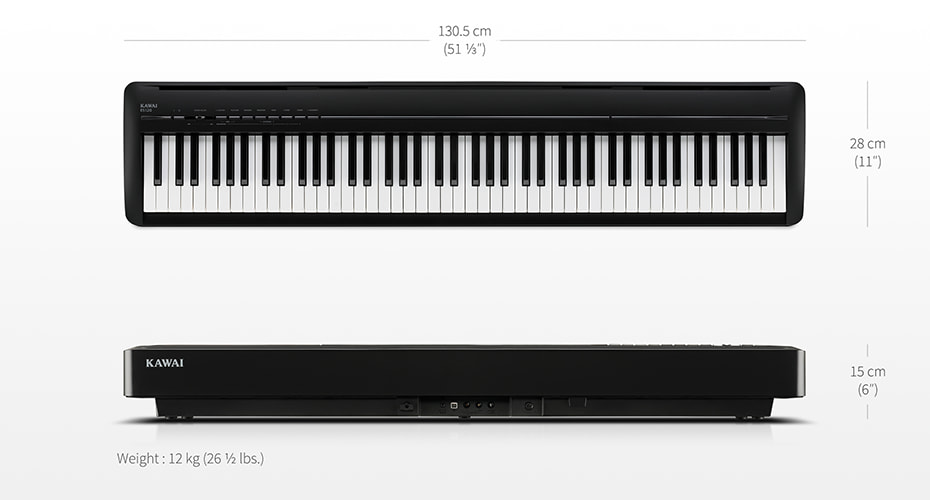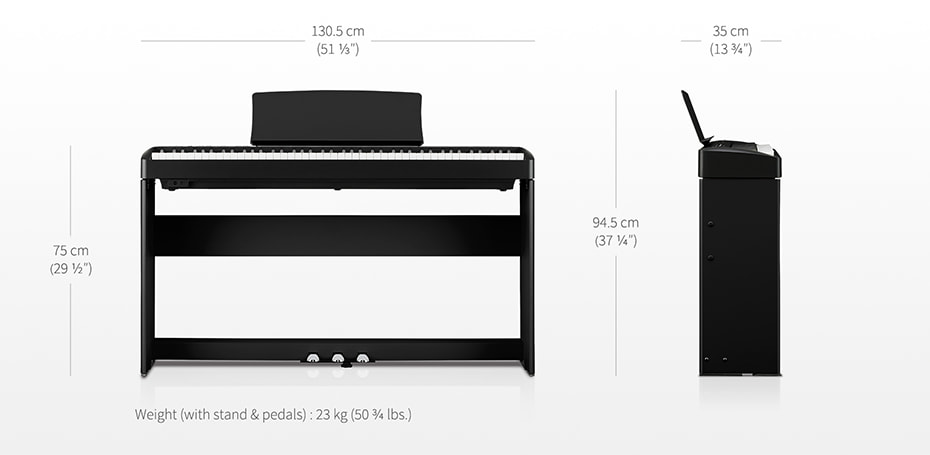 SPECIFICATIONS
Keyboard
・ Responsive Hammer Compact action
– 88 keys
– Grade-weighted hammers
– Matte key surfaces
Pedal
・ F-1SP switch pedal
– Damper (on/off)* Compatible with F-10H damper pedal, GFP-3 triple pedal unit, F-351 triple pedal board accessories
– Damper (with half-pedal support)
– Soft
– Sostenuto
Piano Sound
・ Harmonic Imaging (HI)
– 88-key stereo sampling
– SK-EX, EX, K-60 recording
– 192 note maximum polyphony
Piano Resonance
– Damper Resonance
– String Resonance

Piano Adjustment

・Virtual Technician (17 parameters, via PianoRemote app)
– Touch Curve
– Voicing
– Damper Resonance
– Damper Noise
– String Resonance
– Key-off Effect
– Fall-back Noise
– Hammer Delay
– Topboard Simulation
– Decay Time
– Release Time
– Minimum Touch
– Stretch Tuning
– Temperament
– Temperament Key
– Half-Pedal Adjust
– Soft Pedal Depth
No. of Sounds
25 voices
Reverb
6 types
Brilliance
✔
Other Effects
Preset (can be disabled)
Speakers
12 cm x 2
Output Power
20 W (10 W × 2)
Headphone Enhancements
Spatial Headphone Sound
Headphone Type
Display
–
Key Cover
–
Music Rest
Detachable type (included)
Product
Size & Weight
Width
130.5 cm (51 1/3″)
Depth
28 cm (11″) [music rest detached]
35 cm (13 3/4″) [music rest attached]
Height
15 cm (6″) [music rest detached]
34 cm (13 1/3″) [music rest attached]
Net Weight
12 kg (26 1/2 lbs.) [music rest detached]
12.5 kg (27 1/2 lbs.) [music rest attached]
Packing
Size & Weight
Dimensions
145 (W) x 37 (D) x 26.5 (H) cm
Gross Weight
18 kg
Available Finishes
Black (ES120B)
White (ES120W)
Light Grey (ES120LG) *
Basic Functions
Dual
Split
Transpose
Tuning
Registration (4 memories)
Startup Setting
Speakers On/Off
Internal Songs
Sound Demo
16 sound demo songs
Piano Music
–
Concert Magic
–
Lesson Songs
9 books, 377 pieces (via PiaBookPlayer app)
Internal Recorder
Total Memory
approximately 15,000 notes
No. of Songs
3 songs
Parts
1 part
Metronome
Time Signatures
1/4, 2/4, 3/4, 4/4, 5/4, 3/8, 6/8
Drum Rhythms
100 patterns
Bluetooth *
Bluetooth (Ver. 5.0; GATT compatible)
Bluetooth Low Energy MIDI Specification compliant
Bluetooth Audio (Ver. 5.1; A2DP compatible)
USB Audio Recorder
Record/Playback
–
Other Functions
–
App Functions
PianoRemote (iOS/Android)
PiaBookPlayer (iOS/Android)
Connector Jacks
Headphone
1 x 1/4″, 1 x 1/8″ Stereo jacks
MIDI
USB-MIDI, Bluetooth MIDI *
Line Out
1/4″ L/MONO, R [unbalanced]
Line In
–
USB to Host
✔
USB to Device
–
Others
Damper (for F-1SP, F-10H)
Pedal (for GFP-3, F-351)
Power Consumption
9 W
Power
Power cable
AC adaptor (PS-129)
Bench
–
Headphones
–
Sheet Music
–
Others
Warranty Card *
Owner's Manual
Music Rest
F-1SP switch pedal