Description

OUR DELIVERY SERVICE OPTIONS
BY TIMED APPOINTMENT –

 Our expert carriers will contact you to arrange the appointment. This way you can guarantee your piano is delivered without having to wait in all day. They will unbox your digital piano and assemble it. The packaging will be removed and the digital piano will be checked over.
---
Playing a Yamaha piano is more than just musical expression or creative discovery: it's connecting more than 130 years of uncompromising craftsmanship, engineering excellence and a dedication to the beauty in life. That Yamaha pianos are world-renowned for their precision is no coincidence: after all, our founder was a trained watchmaker, whose eye for detail set the high standards for excellence that are seen and enjoyed today. Whether classic or digital, the creation of all Yamaha pianos comes down to expert craftsmanship from, the finest raw materials to the very latest in audio technology and new connectable innovation. Only after passing the toughest of quality controls is a Yamaha piano ready to become enrich the lives of players around the world.
Playability
GrandTouch™ keyboard
Yamaha's latest keyboard action features a broad dynamic range and faithful response to every nuance of touch that puts a wide expanse of tone—from delicate to bold—at the pianist's fingertips. The highly consistent grand piano hammers replicate the pleasing response felt when the hammers strike the strings, enabling precise control of the tone. Highly absorbent synthetic-ivory white keys and synthetic-ebony black keys prevent slipping even during extended play and feel just like those of a grand piano.
GrandTouch keyboard features wooden keys that showcase Yamaha's expertise with wood for pianos. Just as with grand piano keyboards, the solid wood is cut from the very best parts of well-dried lumber, making the keys more resistant to warping than keyboards made of laminated wood. The wooden texture and structure of the keys create a more grand piano-like feel.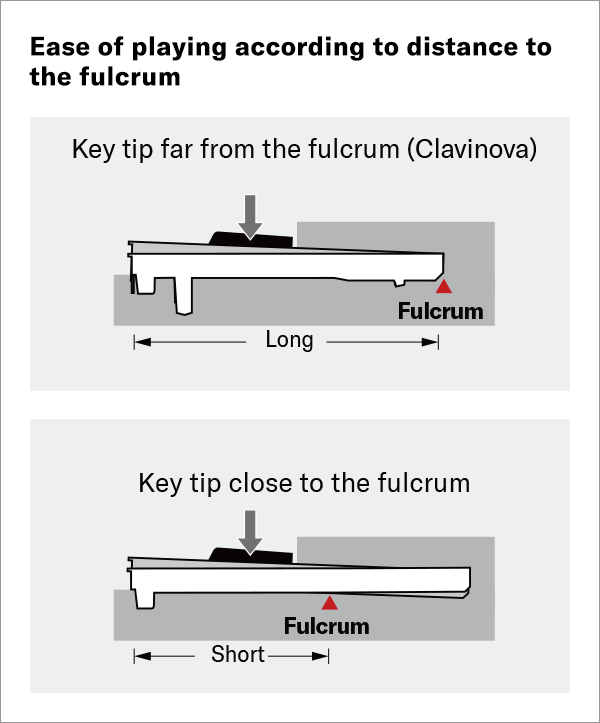 Leverage your artistic expression
When playing a digital piano, the back area of the keys may prove to be a challenge to full musical expression. This is because the back of the key is closest to the fulcrum of the action. The closer to this pivot point that you strike the key, the less leverage you have and the more strength you need to apply. The greater length of GrandTouch keys give the player MORE leverage, allowing for better expressive control, even at the backs of the keys. This is the same support length found on the Yamaha S3X premium grand piano (as of July 2020), and is the longest support length used on any digital piano.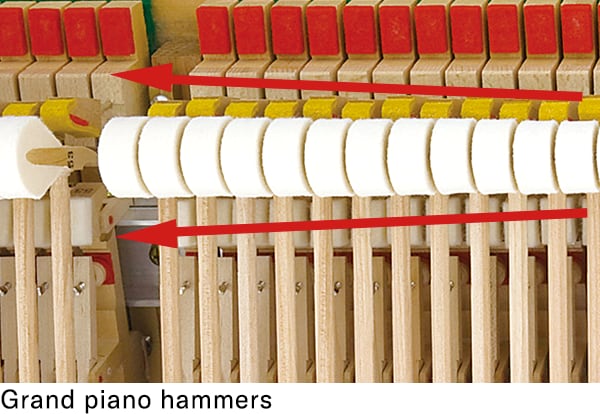 88-key Linear Graded Hammers—the first digital piano keyboard ever to feature realistic weighting on every key
Every single key on a grand piano keyboard is weighted differently. This is because the strings for each note are slightly thinner and shorter in the treble register, becoming thicker and longer towards the bass register. The 88-key Linear Graded Hammers of the Clavinova is the first-of-its-kind to faithfully duplicate this graded touch with differing weights and key return on each one of its keys. This results in a feel and response that is astonishingly like that of a grand piano, and allows players to gain an appreciation of a more authentic touch.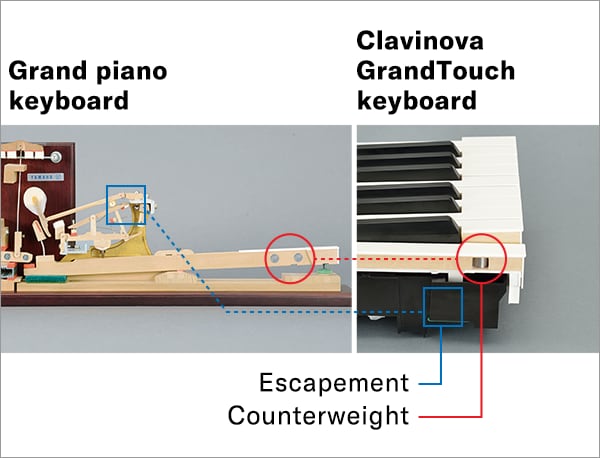 Key counterweights
Counterweights are embedded in the keys of a grand piano to balance the weight of the hammers and offer more precise control when playing delicately at low volumes. The Clavinova features carefully adjusted counterweights for improved playability when playing pianissimo with a light touch, and better key return in rapid passages. The keyboard of the Clavinova has been fine-tuned to offer optimal balance, emphasizing its superb playability and grand piano response.
Escapement mechanism of Clavinova keyboards
The escapement mechanism in a grand piano moves the hammers away from the strings quickly after they strike them, in order to prevent any interference with string vibration. This mechanism produces a slight clicking sensation when the keys are pressed gently.
The Clavinova keyboards feature an escapement mechanism that reproduces this sensation near the bottom of the key dip. They have been designed in such a way that the click is discernible only on the lightest keystrokes, similar to the keyboard of a grand piano. These keyboards have been adjusted to provide additional friction that balances key repetition and response without impeding performance.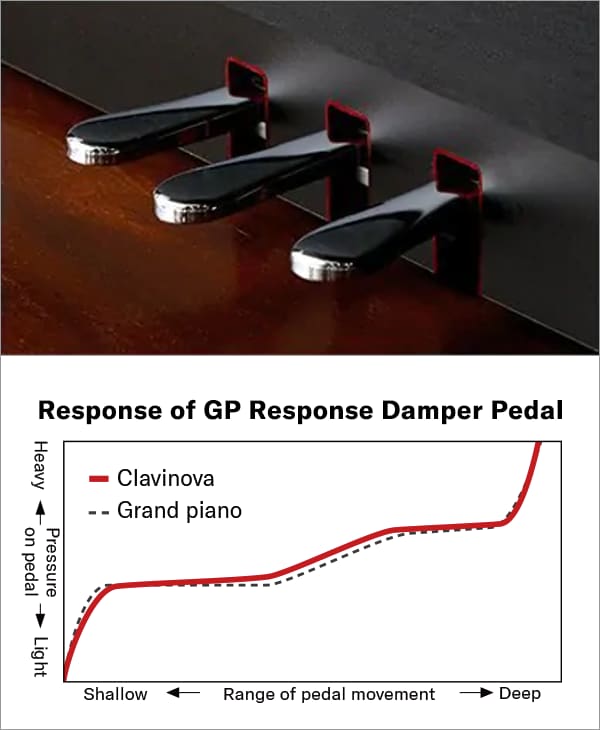 The GP Response Damper Pedal
Using the damper pedal subtly alters the nature of a piano's sound and is essential to providing the pianist with all the necessary expressive tools to convey their musical vision.
Clavinova digital pianos feature a damper pedal that continually detects depression depth and allows halfpedaling, which lets players make minute adjustments to pedal depression and return, changing the depth and character of their piano sound.
The GP Response Damper Pedal offers a grand piano-style resistance curve, starting out light to the touch and growing heavier as the pedal is depressed further. This allows players to become accustomed to the nuances of delicate pedaling.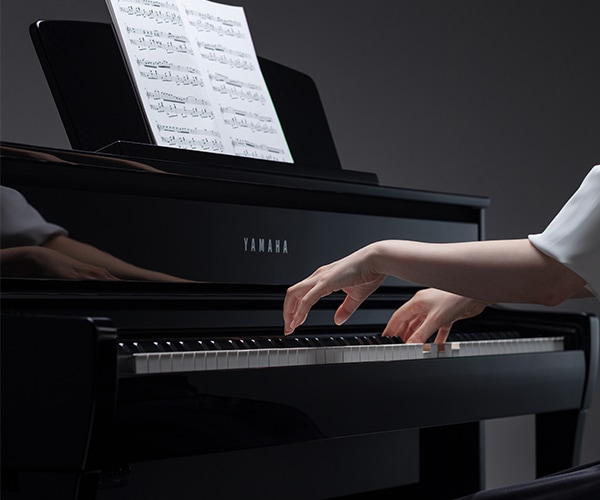 Design philosophy
Clavinova pianos boast excellent playability and versatile functions, along with a refined, authentic design that blends a compact form with modern aesthetics in a manner befitting the instrument that sets the contemporary standard for pianos. At the heart of the Clavinova design concept is the way the player feels when they take their seat in front of a Clavinova piano. Unnecessary elements are removed from the player's field of vision to create a convincingly natural space that feels just like sitting at an acoustic piano. This represents Yamaha's consideration to players who practice on Clavinova and perform on grand pianos—they are able to take the stage free of tension or worry because everything feels normal, as it should. A Clavinova piano is a part of the player's everyday life—contemporary accents and color variation are available to mesh with any interior design or lifestyle.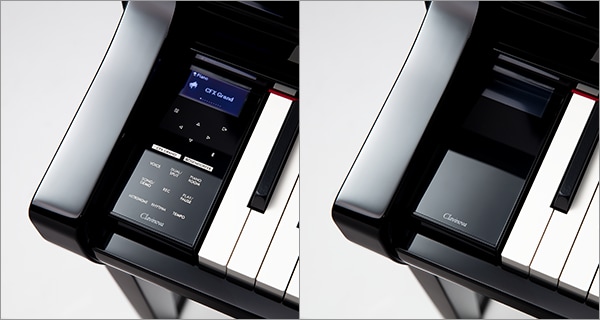 Grand Expression Modeling
The interaction and interplay of the hammers, dampers, and strings inside a grand piano respond to the subtlest nuances of the pianist's touch, creating a limitless range of tonal expression. Touch refers to the pianist's control, not only of intensity (softness/loudness) in playing and releasing the keys, but also of the speed and depth with which the keys are pressed. The Grand Expression Modeling introduced in the CLP-700 Series translates the widely varied input from the pianist's fingers into the same limitless tonal variation of a grand piano.
This makes it possible to vary the output by playing the keys to different depths and with different speeds, even when using techniques such as trills or legato or emphasizing the melody over the accompaniment. Grand Expression Modeling excels at faithfully reproducing the output expected of these techniques in many well-known songs. In Debussy's "Clair de Lune," a loose touch creates the faint tone that makes the melody stand out more crisply. In Liszt's "Un Sospiro," the accompanying arpeggios accent the melody without overwhelming it, and varied expression of the melody gives it the same quality as vocals. In the last of the Chopin nocturnes, trills, legato, and other delicate techniques where fingers seem to float over the keys deliver the airy, smooth tonal expression required. Playing such pieces on a highly expressive piano helps the pianist learn various techniques and experience the same joy of expression as a painter, but through sound.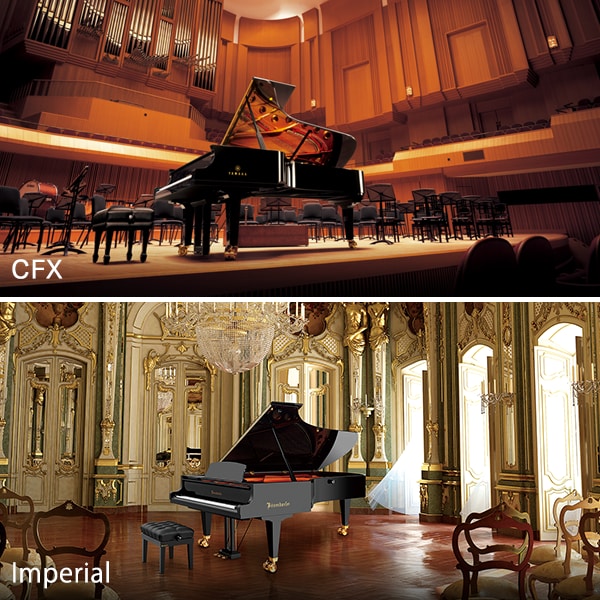 Newly sampled Yamaha CFX and Bösendorfer Imperial voices
Clavinova grand piano sounds are recorded from several world-renowned concert grand pianos. One of them is the CFX, Yamaha's top-flight concert grand piano. Pianists around the world are enamored with the impressive, dazzling, richly expressive sound of the CFX in concert halls. Another sampled concert grand is the Imperial, the flagship model of Bösendorfer, a time-honored Viennese piano brand with an ardent following. The Imperial is known for its abundance of color and natural, warm feeling. Yamaha faithfully reproduces the idiosyncrasies of these concert grand pianos by carefully recording the entire tonal range of each of the 88 keys, making minute adjustments to capture the most harmonious tones each piano has to offer.
Virtual Resonance Modeling
One of the allures of the grand piano is the sympathetic resonance created by the vibration of the entire instrument. Clavinova pianos elaborately reproduce this rich sympathetic resonance through a groundbreaking technology called Virtual Resonance Modeling (VRM). VRM creates a richly varied sound by simulating the complex sympathetic tones created when the vibrations of the strings are propagated to the soundboard and other strings, corresponding to the timing and intensity of key playing and pedaling. CLP-700 Series pianos even replicate the sounds the dampers make when they are raised off the strings, in addition to the resonance of the duplex scaling, strings, soundboard, and case. Clavinova pianos allow you to enjoy the same momentary dynamics and deep sympathetic sounds that are produced by the entire body of a grand piano.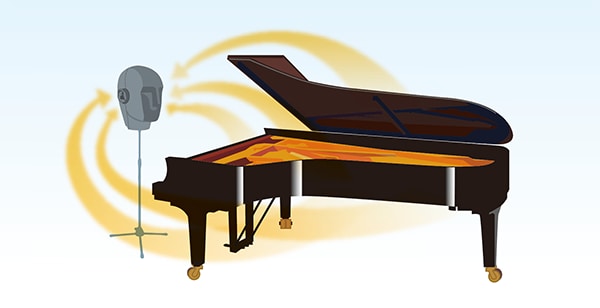 A fully immersive concert grand experience—even with headphones
Binaural sampling is a method of sampling in which special microphones are placed on a mannequin's head in the same positions as the pianist's ears to capture piano sounds the way that they sound in reality.
We chose this method to create the ambience and full, natural resonance of acoustic pianos in Clavinova pianos. This makes pianists feel as though they are sitting at a grand piano even when they play with headphones on. The experience is so pleasant that they forget they are wearing headphones, no matter how long they continue to play.
On CLP-700 Series pianos, binaural sampling was used for the Bösendorfer Imperial as well as the Yamaha CFX. Yamaha achieves higher-definition binaural sound with a specially developed mannequin head and model ears used for the recording.
We also developed the Stereophonic Optimizer function to achieve the same effect for the piano effects. Stereophonic Optimizer technology replicates the natural diffusion of sound in headphones nearly as closely as binaural sampling for the piano voices other than the CFX and Imperial.
Period instrument voices open the door to the world of classical music
The CLP-785/795GP* are Yamaha's first instruments to be equipped with the voices of the fortepiano, the predecessor to the modern piano. The sounds emitted by a fortepiano are simpler than those of a modern piano, and decay much more rapidly. Hearing the sounds of the instruments played when the likes of Mozart, Beethoven, and Chopin were composing their songs should illuminate the original intent behind the notes on the page. Here is a novel opportunity to communicate with historical composers by playing these period instruments.
*These models are equipped with the voices of four fortepianos beloved by Mozart, Chopin, Beethoven, and Scarlatti.
The fortepianos shown in the picture are from the collections of at the Hamamatsu Museum of Musical Instruments.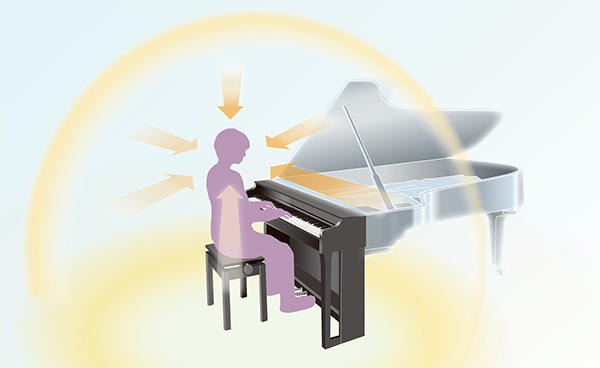 Grand Acoustic Imaging
When a pianist plays a grand piano, they cause the entire body of the instrument to reverberate, and become enveloped in the colorful tones created from the combination of various acoustic elements in the air around them. The pianist becomes immersed in the diffusing sound and reverberation. The CLP-785/775 deliver this pleasant feeling through Grand Acoustic Imaging. The latest acoustic design and measuring technology create the same sound image and sound field of a grand piano despite the compact size of the digital piano. We optimally balanced and placed the bass, mid, and treble speakers to achieve the sound radiation and centroid characteristic of grand pianos so that each and every tone played through the speakers sounds like it was emitted from the proper place on an actual grand piano. The speaker placement and balancing replicates the sensation of the hammers striking the strings in front of the pianist, and the reverberations from the strings dissipating away from them. We also used a transducer to achieve the full reverberation of sounds emitted by the entire grand piano soundboard, replicating the sense of depth experienced when playing an acoustic grand piano.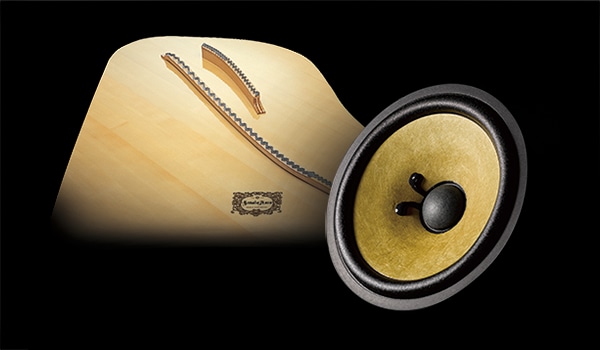 Speaker innovations by Yamaha include Spruce Cones
Drawing from our experience in building both acoustic pianos and high-end speakers, Yamaha CLP-785/795GP speaker cones use pulp from the same spruce wood used to make acoustic piano sound boards. The result is a more natural, piano-like attack to the sound that is more piano-like when you play the keys.
Time-tested practice aids
Train your hands with some of the most widely accepted exercises in the world using proven practice methods from Hanon, Bayer, Czerny and Burgmüller. You can use these built-in songs for practicing with your right and left hands separately, or simply enjoy listening to them.
Playing the piano along with rhythm playback
The CLP-700 Series comes complete with 20 different and simple rhythm patterns (drums and bass accompaniment) that are perfectly suited to many types of music, letting you spice up your performance with some backing musicians, make practice more interesting, or open up your creative flow with inspiring new ideas.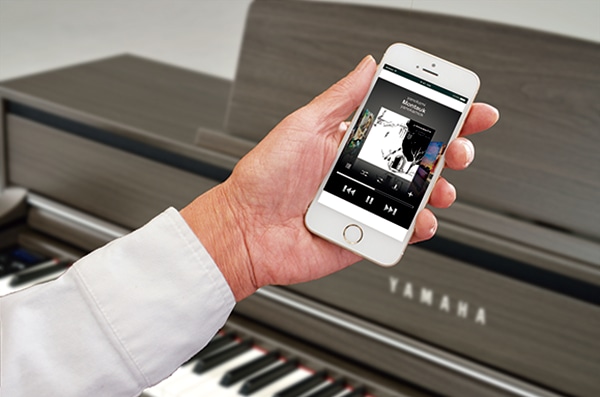 Connect wirelessly for Bluetooth® audio
You can play music through the audio system on the Clavinova* by using a Bluetooth-enabled smart device. You can stream audio data such as mp3 files. You can enjoy playing along with any songs on your smart device.
*Availability of Bluetooth audio varies by country.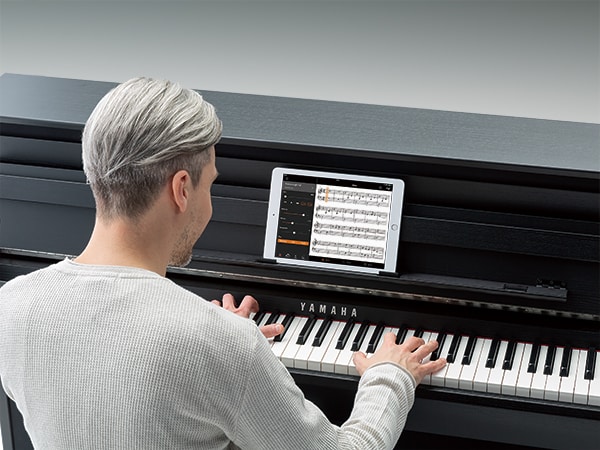 Get more with the Smart Pianist app
Enjoy the piano more with Smart Pianist, a dedicated app that adds a beautiful graphic interface and a variety of incredible features to your compatible Yamaha digital piano.
The Bluetooth® MIDI function* lets you conncect to Smart Pianist wirelessly.
*Featured on the CLP-785/775/745/795GP/765GP. Availability of Bluetooth MIDI varies by country.
Multi-track Song Recorder
The recording function featured in Clavinova digital pianos allows you to record your performances* with a single touch, which is useful when you want to review your playing objectively. Additionally, you can record up to 16 tracks for simultaneous playback, so different hands can be recorded separately or overdub parts with different voices.
*Recordings are made in MIDI format, and can also be recorded to USB flash memory. Compatible software is required for playback of recorded data on a computer.
USB Audio Recorder
Record performances to USB flash memory and create audio files* you can save and play back on a computer, share with friends or create a CD.
*Data is saved in WAV format.
Size/Weight
Width: 1,461 mm (57-1/2″)
Height 1,027 mm (40-7/16″)
Depth: 476 mm (18-3/4″)
Weight: 84 kg (185 lb, 3 oz)
Control Interface
Keyboard
Number of Keys: 88
Type: GrandTouch-S™ keyboard: synthetic ebony and ivory keytops, escapement
Touch Sensitivity: Hard2/Hard1/Medium/Soft1/Soft2/Fixed
88-key Linear Graded Hammers: Yes
Counterweight: Yes
Pedal:
Number of Pedals: 3: Damper (with half-pedal function), Sostenuto, Soft
Functions: Sustain (Switch), Sustain Continuously, Sostenuto, Soft, Pitch Bend Up, Pitch Bend Down, Rotary Speed, Vibe Rotor, Song Play/Pause
GP Response Damper Pedal: Yes
Display
Type: Full Dots LCD
Size: 128 x 64 dots
Language English, Japanese
Panel
Type: Touch Sensors
Language: English
Cabinet
Key Cover Style: Folding
Music Rest: Yes
Music Braces: Yes
Voices
Tone Generation
Piano Sound: Yamaha CFX, Bosendorfer Imperial
Binaural Sampling: Yes (CFX Grand and Bosendorfer voice only)
Key-off Samples: Yes
Smooth Release: Yes
VRM: Yes
Grand Expression Modelling: Yes
Polphony
Number of Polyphony (Max.): 256
Preset
Number of Voices: 53 voices + 14 Drum/SFX Kits + 480 XG voices
Compatibility
XG (GM), GS (for Song playback), GM2 (for Song playback)
Effects
Types:
Reverb: 6
Chorus: 3
Brilliance: 7+ User
Master Effect: 12
Intelligent Acoustic Control (IAC): Yes
Stereophonic Optimizer: Yes
Functions
Dual/Layers: Yes
Split: Yes
Duo: Yes
Songs
Number of Preset Songs: 25 voice demo songs + 50 classics + 303 lesson songs
Recording
Number of Songs: 250
Number of Tracks: 16
Data Capacity: approx. 500 KB/Song
Compatible Data Format
Playback: SMF (Format 0, Format 1)
Recording: SMF (Format 0)
Functions
Piano Room: Yes
USB Audio Recorder
Playback: .wav (44.1 kHz sample rate, 16-bit resolution, stereo)
Recording: .wav (44.1 kHz sample rate, 16-bit resolution, stereo)
Overall Controls
Metronome: Yes
Tempo Range: 5 – 500
Transpose: -12 – 0 – +12
Tuning: 414.8 – 440.0 – 466.8 Hz (approx. 0.2 Hz increments)
Scale Type: 7 types
Rhythm: 20
Bluetooth: Audio/MIDI (varies by country)
Storage and Connectivity
Storage
Total maximum size approx. 1.4 MB
External Drives: USB flash drive
Connectivity
Headphones: Standard stereo phone jack (x 2)
MIDI: [IN] [OUT] [THRU]
AUX IN: Stereo Mini
AUX OUT: [L/L+R] [R]
AUX Pedal: N/A
USB TO DEVICE: Yes
USB TO HOST: Yes
DC IN: 24V
Amplifiers and Speakers
Amplifiers: 50W+50W+50W x 2
Speakers: 16cm + 8cm + 2.5cm(dome) + transducer x 2, Spruce Cone Speaker
Power Supply
Power Consumption: 60 W (When using PA-500C AC adaptor)
Auto Power Off: Yes
Power Supply:  PA-500V
Accessories:
Owner's Manual, "50 Classical Music Masterpieces" Music Book, Online Member Product Registration, Warranty*, Bench*, Power cord*/AC adaptor* PA-500C *varies by area
You're never too far away!
Remember we supply pianos in Yorkshire and Nationwide… frequently delivering to Leeds, Bradford, York, Harrogate, Halifax, Huddersfield, Wakefield, Doncaster, Sheffield, Scarborough, Bridlington & Hull.
If you cannot visit, call us. We can mail order your digital piano anywhere in the U.K. Our specialist carriers work nationwide. We can even arrange to unbox and assemble it. Please ask us for more details.